Slide in coal volumes pulls down cargo volumes at Indian ports
Published by Elizabeth Cope, Editorial Assistant
World Coal,
---
A decrease in coal volumes has pulled down cargo volumes at several major Indian ports. A fall of 9.5% in coal volumes contained the cargo growth of major ports to 0.4% during April - October 2019. In contrast, coal volumes grew by 11% this fiscal year.
Apart from the slump in coal imports, despatches by Coal India Ltd fell by 7% in the period to 364 million t from 392 million t in the corresponding period of the last fiscal year. A report by ICRA attributes the slowdown in coal imports to the economic slowdown in recent months that has slackened overall demand.
Power demand, and consequently thermal power generation, has witnessed a decline in the last 3 – 4 months along with an attendant slowdown in other consuming industries, resulting in a fall in the coal demand-supply gap. In addition to weakening power demand, growth in coal demand is also stifled by the impact of higher generation from renewable capacities.
The ICRA report noted: "Systemic inventory with users is also possibly down on account of lower ordering following the anticipation of further slowdown in demand. While non-major port data is not available, many non-major ports have significant dependence on coal cargo and thus could face challenges if the slowdown continues,"
In the 2019 fiscal year, the total cargo handled by Indian ports registered a moderate increase of 5.9% to 1280 million t from 1209 million t in the 2018 fiscal year. Both major ports and non-major ports contributed to the growth, recording growths of 2.9% and 9.8% respectively.
Major ports handled 699 mllion t, whereas non-major ports registered a cargo throughput of 581 million t. Major ports only marginally fell short by 1% of the Ministry of Shipping target of 704 million t for the 2019 fiscal year.
Read the article online at: https://www.worldcoal.com/coal/20122019/slide-in-coal-volumes-pulls-down-cargo-volumes-at-indian-ports/
You might also like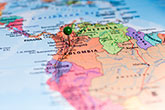 Benjamin Hill has entered into a nonbinding letter of intent with Aion to acquire interest in a Colombia coal project.