---
Lignite is the lowest quality coal with low carbon content of 25 - 35%, moisture content of 20 - 40%, and heating value of 4000 - 8300 BTU/lb. Lignite is typically used in pulverised coal or cyclone-fired electric production power plants.
The global lignite mining market was valued at US$108.19 billion in 2017. The Asia Pacific was the largest geographic region accounting for US$76.86 billion or 71.04% of the global market. And China was the largest country accounting for US$57.49 billion or 53.14% of the global lignite mining market.
Mining companies are using 3D mine visualisers to obtain a real time digital model of a mine. A 3D mine visualiser generates a 3D model of the mine layout and transfers it directly to the operator.
With a web-based interface, information about the model is available with any connected device. It offers full record and playback capabilities in 3D thus allowing operators to review and analyse historical data in order to improve productivity and identify best practices. 3D mine visualisers significantly enhance the productivity of large mining environments.
It is a valuable tool in operations planning, analysing problematic areas and tracking mine development over time. Companies such as Sandvik and Komatsu are offering 3D visualiser systems.
Lignite Mining Market Global Report 2018 from The Business Research Company provides the strategists, marketers and senior management with the critical information they need to assess the global lignite mining market.
View the full report here.
Read the article online at: https://www.worldcoal.com/coal/20082018/report-2018-global-lignite-mining-market/
You might also like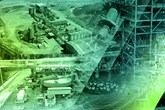 DRA Global has secured the contract for a major design package for Whitehaven Coal's Vickery Extension Project located in New South Wales, Australia.