---
Argus Media is reporting that the possibility of an additional 25% import tariff being slapped on US coal, as a consequence of the deteriorating trade relationship between China and the US, has forced Chinese steelmakers to reassess plans to increase purchases of coking coal from the US.
The reversal comes less than two weeks after China's main economic planning agency, the NDRC, started considering loosening restrictions on US coal imports to China – including removing the existing 3% import tax. US coking coal producers revived exports to China in 2017, shipping 2.8 million t, after the trade had been dormant for years according to Chinese customs data.
Last week China said that it would retaliate after the US announced plans to impose a 25% tariff on US$34 billion a year of Chinese exports, starting on 6 July. A 25% tariff on another US$16 billion a year in US exports, including coking coal, would then be imposed by China if the US follows through on threatened tariffs on the same amount of trade.
"Nothing is confirmed at this point because coal has only been earmarked for the second round of tariff imposition," a US coal sales manager in China said. "But should they kick in, the final import tariff will be nearly 29%", including the existing 3% tariff and customs fees, she added.
Trade relations between the two nations could deteriorate further, after US President Donald Trump yesterday ordered his administration to identify another US$200 billion in Chinese imports that could be slapped with 10% tariffs. Trump said: "The trade relationship between the US and China must be much more equitable."
The trade tensions have depressed most commodity futures in China – for example, yesterday September coking coal futures closed down by 4%, or 49.5 yuan/t, at Y1,199.5/t.
While the US accounted for only 4% of China's total 69.9 million t of coking coal imports in 2017 – potentially limiting the direct impact of the tariffs – any new taxes could reverse a shift in China's buying towards US coal and instead support imports from Australia, Canada and Russia.
Spot supply disruptions in Australia and quality issues with Russian coals have pushed Chinese trading firms and mills into adding US coking coals to their trade books and blends. US supplies work well as blending coals, and are classified as lean coal by most coke makers in China. US coals can make up 5-10% of a blend, reducing ash levels and the required amount of premium hard coking coals, which can make up 20-30% of the blend. The bulk of the blend is made up of domestic coking coal, of which China produces roughly 600 million tpy.
A cargo of Pinnacle hard coking coal from the US changed hands at US$170/t cost and freight in mid-May; a cargo of US brand Buchanan traded at US$175/t cost and freight. Simultaneously Australian mid-volatile hard coking coal was selling at US$180-185/t cost and freight.
A north China steelmaker said: "Some Chinese steel mills recently switched to buying Buchanan because the Russian K10 supply ran into some issues. So these mills are going to face some problems finding substitutes."
Buchanan coal exported from US east coast ports has been gaining attention, as its low ash content makes it ideal to be used together with high-ash domestic coking coal. Coking coal with lower ash content is available domestically in China, but volumes are limited, the US coal sales manager said. "In the worst case scenario, mills might have to get creative and adjust their blends accordingly to accommodate the higher ash levels," she added.
The past two months have seen increasing amounts of US coking coal being sold into China as consistently high Australian prices made US coal more attractive for purchasing. These cargoes, which have already been sold, will not be affected by the new tariffs as contracts would have been finalised by now.
Read the article online at: https://www.worldcoal.com/coal/20062018/chinese-steelmakers-to-reconsider-increasing-purchases-of-us-coking-coal/
You might also like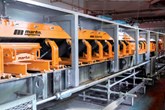 A global leader in bulk handling accessories and safety, Martin Engineering, is expanding its presence in the Asian Pacific market by opening a business unit in Malaysia.