Nigerian Government commends Dangote Cement self-sufficiency feat
Published by Louise Mulhall, Editorial Assistant
World Coal,
---
The Federal Government has officially confirmed that Nigeria has attained self-sufficiency in the production of cement and is now an exporter of the commodity, ascribing the feat to Dangote Cement www.Dangote.com which spare headed the backward integration policy introduced by the government.
Minister for Solid Minerals Development, Dr. Kayode Fayemi who leads a team of the federal government to the Dangote Cement plants in Ibese, Ogun State at the weekend said the government was happy with the leadership roles played by Dangote Cement in executing the backward integration policy in the cement industry.
It would be recalled that the Group Managing Director of Dangote Cement, Onne Van der Weijde had last month whole presenting the financial results of the company for 2016, declared that the Company had commenced exportation of Cement to Nigeria's neighbouring countries.
He said: "We exported nearly 0.4 million short t into neighbouring countries and in doing so, we achieved a great milestone by transforming Nigeria into a net exporter of cement.
"This is a remarkable achievement, given that only five years ago, in 2011, Nigeria was one of the world's largest importers, buying 5.1 million short t of foreign cement at huge expense to our balance of payments. We will increase our exports substantially in 2017."
Meanwhile, the Minister said it is a success story that Nigeria which few years ago imported over 60% of her cement needs now can produce to meet local demands and still export to other nations, this is highly commendable.
The Minister stated:
"As you all know, as the Federal government moves to diversify the economy away from oil, two areas the government is focusing on are agriculture and solid minerals, this is why we are embarking on tour of mining operations across the country to know the challenges they face and what could be done to tackle those challenges.
"What Dangote is doing is marvelous. We need to commend them. The way they led the backward integration policy to turn around our fortunes in the cement industry. I am delighted to see the development here bigger that what I saw the last time. And we are looking at how we can replicate the successes in the cement industry in other non-oil sectors of our economy."
Dr. Fayemi said besides the mining operations, government was also trying to see how the big plants are being in an environmentally friendly manner as observed in Dangote Cement.
"We need to collaborate and partner in these areas at this time that government is trying to reduce the dependence on oil. We need to tun around our mineral resources just as what obtained in cement sector. When you look at the our solid mineral industry, there is a wide gap between what we can produce and what is consumed, importation in these sector is huge."
Earlier while welcoming the Minister and his delegation, the Honourary Adviser to the President of Dangote Group, Engr. Joseph Makoju explained that Dangote Cement operates the largest cement mining operations across the country.
He explained that Dangote Cement also operates the largest coal mining to generate power as alternative to gas since the supply of gas has been plagued with incessant disruptions. He added that over 50% of power need of the cement plants are generated from coal.
The Ibese Plant Director, Amando Martines then made a presentation on the Ibese plants, how it was expanded from two lines of 6 million short tpa to four lines and can now produce 12 million short tpa.
Dangote Cement is Africa's leading cement producer with nearly 46 Mta capacity across Africa, a fully integrated quarry-to-customer producer with production capacity of 29.25 Mta in Nigeria.
Its Obajana plant in Kogi state, Nigeria, is the largest in Africa with 13.25 million short tpa of capacity across four lines.
The Ibese plant in Ogun State has four cement lines with a combined installed capacity of 12 million short tpa. The Gboko plant in Benue state has 4 million tpa. The company plans to build new factories in Ogun State (3-6v million short tpa) and Edo State (6.0v million tpa).
In addition, it has invested several billion dollars to build manufacturing plants and import/grinding terminals across Africa. Our operations are in Cameroon (1.5 million short tpa clinker grinding), Congo (1.5 million tpa), Ghana (1.0 million short tpa import), Ethiopia (2.5 million short tpa), Senegal (1.5 million short tpa), Sierra Leone (0.7 million short tpa import), South Africa (3.3 million short ta), Tanzania (3.0 million short tpa), and Zambia (1.5 million tpa).
Read the article online at: https://www.worldcoal.com/coal/20032017/nigerian-government-commends-dangote-cement-self-sufficiency-feat/
You might also like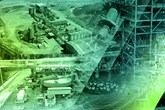 DRA Global has secured the contract for a major design package for Whitehaven Coal's Vickery Extension Project located in New South Wales, Australia.