Spring Creek mine receives National Association of State Land Reclamationists Award
Published by Stephanie Roker, Editor
World Coal,
---
Cloud Peak Energy's Spring Creek mine, located near Decker, Montana (USA) received the 2018 Outstanding Reclamation Award from the National Association of State Land Reclamationists (NASLR) for effective reclamation and innovative practices. The award was presented at the NASLR annual conference in Williamsburg, Virginia (USA) on 10 September 2018.
Reclamation plans at Spring Creek mine incorporate a mosaic of livestock grazing, pastureland and wildlife habitats into the post-mining environment. These habitats support a host of wildlife, including the western sage-grouse.
"Actions to protect wildlife are of significant importance to all of our operations," said Colin Marshall, Cloud Peak Energy's President and CEO. "The innovative techniques used at Spring Creek mine are a perfect example of our continuous improvements and focus on environmental stewardship."
Efforts to promote area sage-grouse populations are focused on two separate programmes, restoring sage-grouse habitat and adding multiple mitigation features. "The sagebrush densities we restore go above and beyond regulatory requirements," said David Schwend, Spring Creek Mine General Manager. "Coupled with additional mitigation features, these successful practices recognised by this award highlight our commitment to reclamation and wildlife conservation."
Spring Creek mined and shipped approximately 12.6 million t of low sulfur coal in 2017, including 4.2 million t shipped by Cloud Peak Energy Logistics to Asian customers through the Westshore terminal in British Columbia, Canada. In 2017, Spring Creek mine was recognised by the Office of Surface Mining Reclamation and Enforcement and received the 2017 Excellence in Surface Coal Mining Reclamation Award for enhanced reclamation success through the diversity of topography, soil and vegetation.
Read the article online at: https://www.worldcoal.com/coal/19092018/spring-creek-mine-receives-national-association-of-state-land-reclamationists-award/
You might also like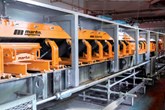 A global leader in bulk handling accessories and safety, Martin Engineering, is expanding its presence in the Asian Pacific market by opening a business unit in Malaysia.