---
January 2016 marked the bottom of metallurgical coal prices, according to Corsa Coal's CEO, George Dethlefsen, with renewed infrastructure spending boosting demand at the same time as production is continuing to be cut.
In its quarterly report for the three months to the end of March 2016, Corsa noted that spot prices for metallurgical coal had risen by 25% on a year-to-date basis on the back of higher steel prices, the end of inventory destocking, higher blastfurnace utilisation rates and higher imports into Asia.
Despite this strengthening of the metallurgical coal price, it remains at a level where a substantial amount of global production is uneconomic – driving further production cuts and disincentivising investment in new production.
On the supply side, Corsa notes that 48 million short t of metallurgical coal production has been taken offline over the past 2 yrs – or about 16% of the annual seaborne metallurgical coal trade.
In the US, the supply situation has the potential to tighten further on the back of industry bankruptcies and little CAPEX activity in development or maintaining mines, leaving supply vulnerable to disruption.
As a result, the company believes that the US domestic market is poised to rebound faster than the seaborne market. Corsa expects metallurgical coal sales of 600 000 – 700 000 short t in 2016, although the company has the ability to produce and sell significantly more should market conditions continue to improve.
"We believe that Q1 2016 pricing will represent the lowest period of realized prices for the company in 2016," Dethlefsen concluded. "Corsa's advantages position on the mining cost curve, access to coal processing infrastructure and logistical advantages will enable us to expand volumes as the price environment recovers."
Edited by Jonathan Rowland.
Read the article online at: https://www.worldcoal.com/coal/19052016/corsa-sees-metallurgical-coal-price-bottom-2016-815/
You might also like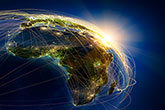 Contango Holdings Plc has advised that the production of washed coking coal has commenced at its flagship Lubu Coking Coal Project in Zimbabwe.