New Utah headquarters and new corporate name for Bowie Resource Partners
Published by Claire Cuddihy, Assistant Editor
World Coal,
---
Bituminous coal producer Bowie Resource Partners, LLC, which is majority-owned by the Galena Private Equity Resources Fund, has moved its corporate headquarters from Grand Junction (Colorado) to Sandy (Utah) and has changed its corporate trade name to Wolverine Fuels, LLC (Wolverine).
Wolverine's new headquarters is located at 9815 South Monroe Street, Suite 203, Sandy, Utah 84070. Wolverine will continue to operate the Sufco, Skyline and Dugout Canyon mines in Utah and the idled Bowie 2 mine in Colorado, and will also maintain a small regional office in Grand Junction (Colorado).
"We are primarily a Utah company, employing Utah citizens and supplying coal to Utah power plants, so it only makes sense that we have our headquarters in Utah," said James Grech, Wolverine's CEO, who was recently appointed in July 2018.
"This move will allow the executive team to be closer to our mines, our workforce and our customers. I want to thank everyone in Utah who encouraged and assisted us with this relocation, especially Governor Herbert's office and Senator David Hinkins."
"The Utah economy benefits from low cost, sustainable electricity, generated by its many diverse resources, including the coal-fired power plants located in the State," said Laura Nelson, the Governor's energy advisor and executive director of the Governor's Office of Energy Development. "The Wolverine mines are key suppliers to those plants, providing jobs and energy security locally, regionally, and globally."
Senator David Hinkins added: "The Wolverine Mines have an enormous economic impact in Emery, Carbon, Sevier and Sanpete Counties, and I was honoured to assist Jim Grech and his team with the move."
In addressing the name change, Grech stated: "In conjunction with the recent management changes and recapitalisation of the company, we wanted to offer our employees a fresh start and new identity with the name change. Our workforce is tough and resilient, very much like a wolverine, so we think our new namesake will resonate very well with our employees and the communities in which we operate."
Read the article online at: https://www.worldcoal.com/coal/17102018/new-utah-headquarters-and-new-corporate-name-for-bowie-resource-partners/
You might also like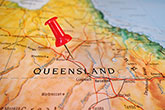 CIMIC Group's minerals processing company, Sedgman, has secured an operations and maintenance contract in the Bowen Basin, Queensland, from Pembroke Resources.