---
Coal of Africa (CoAL) has reached agreement with Rio Tinto Minerals Development and Kwezi Mining in a dispute of payments connected with the acquisition of the Chapudi Coal assets by CoAL subsidiary, MbeuYashu.
In March, MbeuYashu has received a notice from Rio Tinto and Kwezi Mining demanding payment for the outstanding amount still to be paid of the original US$75 million price tag. Rio Tinto and Kwezi Mining claimed payment was due immediately, a claim that was disputed by CoAL.
Consequently, the companies entered a mediation process and have agreed to settle the dispute by amending the terms of the payment of the amount still owed to Rio Tinto and Kwezi. To date, US$18.8 million remains outstanding.
As a result, minimum monthly payments have been raised from US$100 000 to US$650 000 with US$1 million payable on 15 May and US$ 2 million payable on 15 September. Full settlement of the outstanding purchase price and accrued interest must then be made by 15 June 2017.
"This was the last of the historic liability issues and this agreement provides certainty of outcome, as well as providing CoAL with flexibility," said CoAL's CEO, David Brown, in a company statement.
The resolution now leaves CoAL able to "pursue its proposed business objectives", the company said, including its proposed acquisition of Universal Coal.
Edited by Jonathan Rowland.
Read the article online at: https://www.worldcoal.com/coal/17052016/coal-reaches-agreement-over-chapudi-repayments-2016-791/
You might also like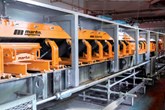 A global leader in bulk handling accessories and safety, Martin Engineering, is expanding its presence in the Asian Pacific market by opening a business unit in Malaysia.