---
The World Coal Association (WCA) has launched a new report calling on the World Bank Group (WBG) to reform its policy on coal financing. The report "Reducing emissions from coal: A role for the World Bank", urged the Bank to support coal-dependent countries to develop concrete steps towards a zero emissions pathway.
Coal is forecast to play a significant role in the global energy mix for decades to come, particularly in developing and emerging economies in Asia and Africa. However, with limited financing options available from development banks, countries may choose to build plants with poorer emissions profiles instead of modern plants fitted with low emissions technologies.
In light of this, the WCA has called on the WBG to adopt a new approach to providing financial support for low emission coal power projects, including supporting strategies for carbon capture, use and storage (CCUS) development.
Launching the report, WCA Interim Chief Executive, Katie Warrick, said: "Through its ability to raise capital and support complex projects, the World Bank is well-positioned to drive the pathway to zero emissions coal, thereby enabling countries to combine economic imperatives with climate goals. Only international financial and technological support can accelerate deployment of low emission coal technology, particularly carbon capture, use and storage, which is key to achieving the goals of the Paris Agreement."
The WBG Board adopted a new energy strategy in 2013 that limits financial support for coal-fuelled power plants to 'rare and exceptional circumstances'.
"Policies adopted by several development banks, including the World Bank Group, to end financing for coal have not resulted in a shift away from coal. Instead, such policies have led to the construction of less efficient plants with higher emissions profiles. The Bank now has an opportunity to adopt an energy policy that reflects the essential role that low emissions technologies, particularly CCUS, will play in meeting global climate goals," Warrick added.
Read the article online at: https://www.worldcoal.com/coal/16102018/wca-urges-world-bank-group-to-reform-coal-financing-policy/
You might also like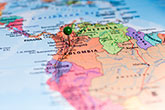 Benjamin Hill has entered into a nonbinding letter of intent with Aion to acquire interest in a Colombia coal project.