---
TerraCom has announces a post-tax loss of AUS$71.4 million on the back of significant writedowns to its Australian and Mongolian assets, foreign exchange losses and finance costs.
The company took non-cash impairment charges of AUS$13.36 million on its non-producing Australian tenements and AUS$3.75 million on its non-producing tenements in the Mid Gobi region of Mongolia. It also wrote down its producing assets in the South Gobi region of Mongolia, which includes the BNU metallurgical coal mine, by AUS$19.7 million.
The writedowns reflect the current downturn in the coal markets – a downturn the company believes may have reached its bottom after rallies in the price of Chinese steel and global iron ore prices. "As a result of the relationship of metallurgical coal with these, it is recognized that these rebounds are positive to the metallurgical coal market," the company said.
The company also recognised a AUS$7.9 million non-cash foreign currency exchange loss related to its US dollar denominated loans. A further AUS$16 million related to interest and finance costs.
The impairment charges have seen the value of the company's asset base fall to negative AUS$44.95 million at the end of the half-year period from AUS$26.5 million in June 2015. Cash on hand at the end of the period was AUS$0.4 million – down from AUS$0.7 million in June 2015 and the company continues to renegotiate payment terms with creditors to manage working capital and short-term funding requirements.
The company continues to review a number of cash-production operations for acquisition to support the company's cash flow. Negotiations over mines in Australia and Indonesia are underway, as well as options to take over producing Mongolian assets as the 'mine operator'.
A number of financing events subsequent to the end of the reporting period have also improved the companies balance sheet including the converting of some debt to equity and the waiving of US$13.2 million (AUS$18.1 million) in interest and fees.
"Had these events occurred prior to 31 December, the Balance Sheet would have been reported in a more favourable position," said the company.
Edited by Jonathan Rowland.
Read the article online at: https://www.worldcoal.com/coal/16032016/terracom-posts-significant-half-year-loss-2016-403/
You might also like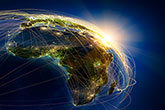 Contango Holdings Plc has advised that the production of washed coking coal has commenced at its flagship Lubu Coking Coal Project in Zimbabwe.