Murray Energy: Hilary Clinton's statement on coal an affront to the industry
Published by Harleigh Hobbs, Editor
World Coal,
---
Robert E. Murray, Chairman, President, and Chief Executive Officer of Murray Energy Corp. has responded to Hillary Clinton's statement that "we're gonna put a lot of coal miners and coal companies outta business." He said: "Her statement is an affront to the coal miners of the United States, and their families, as well as the up to eleven working families whose livelihoods depend on each of our direct mining jobs."
"While such a threat to our lives from a Presidential candidate is beyond strange, it does confirm what the national Democrat party has been accomplishing for the past eight years," he added.
Murray pointed out that "nearly two hundred thousand of America's coal miners have lost their jobs, and 49 American coal companies have filed for bankruptcy, as a result of the policies of the Obama Administration and the increased use of natural gas to generate electricity."
"Mrs Clinton has now promised to further this destruction."
Murray explained this would raise electricity costs for the US and "destroy the reliability of our country's electric power grid."
"In promoting her wind and solar power, she does not say that it is unreliable and that it costs 22¢/KWh (plus a 4¢ per kilowatt subsidy from our taxpayers) compared to 4¢/KWh for electricity from coal," he added.
"Her statements demonstrate her absolute incompetence on matters of energy policy and her contempt for coal mining families in this Country," Murray concluded.
Murray Energy is one of the largest employers in the US coal industry, employing approximately 5300 people in six states. This has been forced down from 8400 jobs in May 2015 due to Federal policies and the increased use of natural gas.
Edited from press release by Harleigh Hobbs
Read the article online at: https://www.worldcoal.com/coal/16032016/murray-energy-responds-to-hilary-clintons-statement-on-coal-407/
You might also like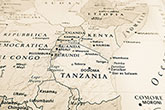 Edenville Energy Plc has provided an update on its Rukwa Coal Project in Tanzania.