---
The report 'A Roadmap for Carbon Capture and Storage' was led by Professor Chris Greig of the University of Queensland and involved a steering committee comprising the Commonwealth Government, NSW Government, CSIRO, CO2CRC Limited, ACALET (COAL21 Fund) and ANLEC R&D.
"Australia's continued economic prosperity and competitiveness depends on access to all forms of energy and strong industries. We need to deal with the mitigation of greenhouse emissions from these activities and prudent early planning relating to CCS deployment is a priority", said Professor Greig.
Key snapshots from the Roadmap include:
CCS must be available on its merits in Australia's energy mix to assure energy system security and affordability so that future emissions reductions targets are delivered at the lowest economic cost.
CCS is required in the power sector (coal and gas generation) but will also play a vital role in decarbonising energy intensive industries, which unavoidably involve the continued use of fossil fuels.
CCS is not an experimental technology. It is being deployed or available now at commercial scale to provide a competitive, carbon reduction option for reliable 24-7 power from fossil fuels.
CCS development, integration and a focus on cost reduction is ongoing, including opportunities to decarbonise a number of existing and prospective emissions-intensive industries including natural gas and LNG production, iron and steel making, cement production, fertilisers, chemicals and textiles.
Report participants have made the following observations:
Tania Constable CEO of CO2CRC Limited said, "A technology neutral policy approach is necessary to achieve reliable, available 24/7, clean energy in Australia. We would like to see ARENA and the Clean Energy Finance Corporation's mandate opened up to include a range of carbon reduction technologies including carbon capture and storage".
Dr Peter Mayfield of CSIRO said, "The transition to a low carbon energy system is a significant and delicate challenge that will require the full range of options to achieve a sustainable future energy mix that also meets the standards of reliability, stability and affordability required. We see CCS as one of a number of key technologies required to meet that challenge during transition and into the future".
Greg Evans CEO of ACALET (COAL 21 Fund) said, "It's important we have reliable and low cost energy provided by coal-fired generation and we maintain our competitive large scale energy intensive industries. That means HELE technology and CCS to provide emission reduction options, this Roadmap shows us the way to achieve that".
Dr Noel Simento Managing Director ANLEC R&D said "Carbon capture and storage is an essential technology for power generation to contribute its share of reductions to global emissions ".
Read the article online at: https://www.worldcoal.com/coal/16022017/new-report-backs-carbon-capture-and-storage-in-australia/
You might also like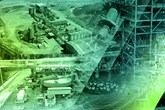 DRA Global has secured the contract for a major design package for Whitehaven Coal's Vickery Extension Project located in New South Wales, Australia.