---
Chinese and U.S. firms generate the most electricity from inefficient coal-fired power plants that pump out more greenhouse gases and use more water than newer power stations, a study has said.
"There is a strong case for investors to evaluate the risk of companies exposed to the least efficient coal plants," said Ben Caldecott, lead author of the report and director of the Stranded Assets Programme at Oxford University.
Chinese and U.S. companies dominate the list of the top 100 corporate portfolios of coal-fired power plants ranked by the total amount of power generated with inefficient, "subcritical" technology, the study said.
Fifty-nine of the 100 companies were state-owned.
Caldecott said subcritical plants emit 75% more carbon dioxide than the most modern coal-fired plants and use 67% more water. They will be the plants most at risk from measures to drive down world greenhouse gas emissions.
"Globally, Chinese and U.S., companies dominate in terms of size, with seven out of the 10 largest subcritical coal-fired power station portfolios being Chinese, and six of the largest 20 American," the report said.
China's Huaneng Group, Huadian Group and China Guodian Group topped the ranking. India's NTPC was the top non Chinese firm in fifth place, and U.S. AES Corp was the highest ranked U.S. company at ninth.
The study listed the efficiency of each portfolio in terms of carbon dioxide emissions per unit of electricity produced. Both NTPC and AES, for instance, were cleaner than the top Chinese producers.
It also gave details of water use and air pollution but did not try to rank the overall environmental performance of each company, nor give the percentage of each firm's output generated by subcritical plants.
Many fossil fuel companies say their production is vital to meet growing energy demand from a rising global population.
Still, last year the U.N. panel of climate scientists said world greenhouse gas emissions would have to fall to zero by 2100 to keep global warming below an agreed ceiling of 2 degrees Celsius (3.6 Fahrenheit) above pre-industrial times.
Edited from source by Joseph Green
Source: Thomson Reuters
Read the article online at: https://www.worldcoal.com/coal/13032015/chinese-us-power-firms-inefficient-coal-618/
You might also like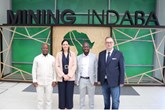 Continuing a spate of new global enrolments, the World Coal Association (WCA) has welcomed South African mining investor, Menar, to its roster of progressive coal members.