---
Whitehaven Coal has published its production report for 1Q19.
Key highlights
Safety performance remains well under the NSW coal industry average with Group TRIFR of 8.3 at the end of March.
Quarterly ROM coal production of 4.9 million t: Saleable coal production of 5.1 million t for the quarter.
Coal sales, including purchased coal, of 6.0 million t for the quarter, up 12% on the previous corresponding period.
Narrabri recovering strongly, producing over 800 000 t in March and 1.7 million t for the quarter.
Coal quality drilling has commenced at Winchester South.
NSW Independent Planning Commission (IPC) Public Hearings for the Vickery Extension Project conducted during February.
75% of public submissions made to the IPC were in favour of the Vickery Extension Project proceeding.
Saleable production guidance modified to account for lower production from Maules Creek during the quarter.
Safety
Whitehaven's TRIFR at the end of March was 8.3, a small movement from the end of December rate of 7.57. Group TRIFR remains well below the NSW coal mining average of 14.67.
ROM coal guidance for Maules Creek has been reduced modestly due to mine scheduling and its related impact on saleable coal production guidance for the year, which has been revised to the range of 20.5 million t to 21.0 million t. These matters are explained in the Maules Creek operational section. Sustaining CAPEX guidance includes the first staged payment in FY19 for the new hydraulic cylinders for Narrabri, while the project capital section features all of the growth projects and includes the June 2019 final payment of US$50 million for Winchester South.
Coal sales and pricing
Equity coal sales for the March quarter, including purchased coal, were 4.893 million t, 16% above the previous corresponding period. Managed coal sales, including sales of purchased coal, were 6.042 million t, 12% above the previous corresponding period. Sales for the quarter exceeded production as ROM stocks built up prior to the end of the December quarter were processed and sold during the March quarter. With global growth slowing towards the end of 2018 and the introduction of new import restriction policies in China in November last year and the ongoing enforcement of those policies, the globalCoal Newc Index (gC Newc) thermal coal price moderated to an average US$95.88/t for the quarter, approximately 8% lower than the December quarter average.
Whitehaven confirms that it is not exposed to coal sales into China. Demand for the company's high quality coal from customers in Japan and other Asian countries remains strong and continues to underpin a high proportion of the company's thermal coal sales. March quarter benchmark prices (which utilised the backward-looking average indexes for metallurgical coal) were US$210/t for hard coking coal and US$132/t for SSCC and about US$140/t for Low Vol PCI coal. Settled benchmark prices for the March quarter were slightly lower than the previous quarter. Whitehaven achieved a strong average price outcome of US$120.42/t for its mix of both benchmark linked and spot prices of metallurgical coal in the quarter. During the quarter, relative price differentials between gC Newc thermal coal and semi-soft coking coal spot prices improved sufficiently to encourage a resumption of spot sales of metallurgical coal from Maules Creek.
Maules Creek achieved a premium of 9% above the Newcastle index price for its sales of thermal coal during the quarter.
To read the full report: http://clients3.weblink.com.au/pdf/WHC/02095343.pdf
Read the article online at: https://www.worldcoal.com/coal/11042019/whitehaven-coal-publishes-1q19-production-report/
You might also like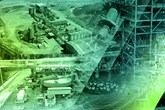 DRA Global has secured the contract for a major design package for Whitehaven Coal's Vickery Extension Project located in New South Wales, Australia.