Four US states to sue over Trump's decision to restart coal lease programme
Published by Louise Mulhall, Editorial Assistant
World Coal,
---
President Donald Trump's decision to restart the sale of coal leases on federal lands has sparked a lawsuit in four US states. The lawsuit is being filed on the basis that the Obama-era block of the leasing programme was reversed without due consideration for the environment and fair value for taxpayers.
The Democrat attorneys general of California, New Mexico, New York and Washington, said that reinstating the federal coal lease programme without an environmental assessment will worsen the effects of climate change on those states, at the same time as shortchanging them for the coal taken from public lands.
"Climate change has to be considered when we are talking about compensating states and New Mexico citizens for their resources," said Cholla Khoury, New Mexico Attorney General Hector Balderas' Director of consumer and environmental protection.
The US Interior Department's Bureau of Land Management administers 306 coal leases in 10 states, which has produced more than 4 billion short t of coal over the past decade. The majority of that coal — 85% — comes from the Powder River Basin in Wyoming and Montana.
11% of US greenhouse gas emissions in 2014 came from the production and combustion of coal on federal lands.
One of the climate conscious policies of the Obama administration was to block the sale of new leases in 2016 in order to conduct an environmental study and a review of the royalties that mining companies pay the US government for coal that's extracted. According to Federal officials and members of Congress, the current royalty rates were shortchanging taxpayers.
In January, Interior officials announced that those royalty rates could potentially be raised to offset the effects of climate change from burning the coal.
In March, President Donald Trump signed an executive order directing Interior Secretary Ryan Zinke to amend or withdraw the coal leasing programme moratorium.
Zinke did so the next day, stating that the Obama administration's environmental review would cost "many millions of dollars" and that it would be possible to make improvements to the programme without a full-scale environmental review.
The lawsuit by the four attorneys general, which was filed in Great Falls, Montana, claims that the reversal was made "with no justification other than an objection to the time and cost of complying with the law."
It is argued that without properly considering the environmental consequences of ensuring that the program provides a fair market value by publicly owned coal would contravene federal laws.
"They didn't follow the law," Khoury said. "You can't make piecemeal changes without doing this assessment to fully understand all parts of this programme."
Read the article online at: https://www.worldcoal.com/coal/10052017/four-us-states-to-sue-over-trumps-decision-to-restart-coal-lease-programme/
You might also like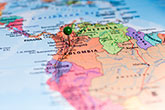 Benjamin Hill has entered into a nonbinding letter of intent with Aion to acquire interest in a Colombia coal project.