Resources sector to strength linkage with communities and local stakeholders
Published by Stephanie Roker, Editor
World Coal,
---
Resources sector companies are focused on building stronger bonds and delivering even more returns to local communities, as part of recognition of the challenges facing business, government and institutions when it comes to trust.
The Queensland Resources Council's (QRC) latest quarterly State of the Sector survey has found the sector is working with communities even closer to bring them to the heart of day-to-day decision-making.
QRC Chief Executive Ian Macfarlane said the survey of resource chiefs reinforced the wider view across other industries that the private sector must act to prevent losing trust with the public.
"Across corporate Australia, government and institutions, there is a clear message that the public is watching and wants businesses to be an active part of their communities," Macfarlane said.
"Companies are listening to this community feedback and responding to the challenge, increasingly focusing their time and resources on their social licence to operate.
"Close to three quarters of resource companies surveyed said community and social performance was embedded in their day-to-day business decision-making and 84% of CEOs estimate they spend about the same or more time on community and social aspects of their business as they do economic and technical.
"Over the next 12 months an overwhelming majority expect to invest more on working with local communities, with 68% of companies surveyed committed to increasing or significantly increasing community and social capability."
The CEO was quoted, saying: "As an industry, we need to be strengthening our linkage with our communities and local stakeholders. Mining offers so much locally – yet we are not doing a great job in reinforcing these links."
Macfarlane said the December quarter survey also highlighted the growing risks around the sector's ability to retain and attract skilled employees.
"The survey found the scarcity of skills was now in its third quarter as a top concern for CEOs as the sector continues to grow employment after a significant and lengthy downturn," he said.
The CEO commented: "Attracting and retaining capable leaders and engineering candidates are key issues. Finding skilled labour, particularly statutory qualified personnel in the underground industry, is a significant challenge."
There was some good news on the outlook for the 316 000 men and women supported by the sector with the expectation of another record year of coal and LNG exports in 2019 driven by Asia's insatiable appetite for Queensland's resources.
Read the article online at: https://www.worldcoal.com/coal/08032019/resources-sector-to-strength-linkage-with-communities-and-local-stakeholders/
You might also like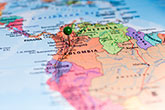 Benjamin Hill has entered into a nonbinding letter of intent with Aion to acquire interest in a Colombia coal project.