New Colombia Resources, Inc. to begin mining metallurgical coal reserves
Published by Louise Mulhall, Editorial Assistant
World Coal,
---
New Colombia Resources, Inc. has announced that on 3 February, 2017, they received notice from the Agencia Nacional de Mineria (ANM) of the approval of the addition of gravel to their existing approved Work Plan (PTO) for metallurgical coal.
The company filed a Form 8K with the Securities and Exchange Commission exhibiting the ANM's Resolution AUTO GET No. 000001.
Now that the PTO has been approved, the company will begin negotiations with the road contractors in the area. Last year the National Infrastructure Agency (ANI) announced the approval of the 23 km that is needed to complete the 1000 km Ruta del Sol road project, the largest in South America.
Details of the Work Plan (PTO) include:
Area to develop: 57.7 hectares
Probable reserves: 1,999,791 cm3
Minerals to extract: Gravel
Exploitation method: Open Sky
Use of explosives: Yes, 30% of minerals will be extracted with explosives
Projected annual production: 250 000 cm3
Volume of rock to be removed: 2 646 094 cm3
Volume of sterile material to be removed: 49 200 cm3
Project life: five years
Machinery to be used: CAT D-9 bulldozers, 7 t dump trucks, rock crushing plant
New Colombia will supply building material to complete the remaining section of the Ruta del Sol, then use this new road to move their premium hard coking coal to export terminals on the Caribbean and Pacific coasts. The road project is complete except for this stretch that begins with tunnels and bridges that are between 200 m to 3 km from New Colombia's mining concession in Guaduas.
"I would like to personally thank the ANM and the Office of the Presidency of Colombia for any assistance provided for this approval, we will not disappoint and are committed to being an environmentally responsible neighbour," stated John Campo, President of New Colombia Resources, Inc.
New Colombia recently entered into a US$90 million contract to supply coal to China Steel Mills, they have sourced the coal to fill the contract and will be making announcements accordingly. New Colombia's Mega Coal Projects have been getting media attention in Colombia.
Approval of the Work Permit is a major milestone since now they can proceed with mining activities once the local environmental authority (CAR) recognises the addition of Gravel and issues an environmental permit for both gravel and coal. An application for the environmental permit has been active for the past few years but was suspended in anticipation of the addition of gravel so the Company will be issued one license for both. The company will personally present the approval resolution to the CAR and expects issuance very quickly since the CAR has already performed a site visit and spent many hours on their case. New Colombia has begun preparations to set up their wholly owned rock crushing plant on site to begin gravel operations with a projected 1000 m3/day output. They may add another plant to satisfy local demand for building material.
In November, mining engineers discovered a new outcropped coal seam over 3 m wide. Engineers from another company were visiting the property to propose a contract to develop some of the assets.
New Colombia Resources' Blue Gem coal is only found on the KY-TN border and central Colombia and is used to produce specialty metals such as Silicone to make solar panels, electric car batteries, and many more next generation products. New Colombia Resources has concession contracts and applications totalling 5000 HA of high quality metallurgical coal that will always be needed to produce steel and other specialty metallurgy products.
According to a mining assessment posted on the company's website, New Colombia Resources has an estimated 17 million t of coal on the first mining title they are developing. It is estimated to be 70% metallurgical and 30% thermal, the value of the metallurgical coal at today's market prices would be US$3.6 billion.
Read the article online at: https://www.worldcoal.com/coal/08022017/new-colombia-resources-inc-to-begin-mining-metallurgical-coal-reserves/
You might also like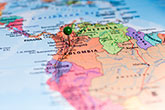 Benjamin Hill has entered into a nonbinding letter of intent with Aion to acquire interest in a Colombia coal project.