Queensland Premier commits to resources; confirms renewables as a recipe for regional resilience
Published by Stephanie Roker, Editor
World Coal,
---
Premier Annastacia Palaszczuk has reaffirmed the importance of the resources sector and its role in renewables as a recipe for regional resilience and prosperity, the Queensland Resources Council said.
QRC Chief Executive Ian Macfarlane said the Premier's speech to CEDA, with former US Vice-President Al Gore in Brisbane on 7 June, made it clear there was a strong future for the resources sector in Queensland and the benefits to regional communities from it.
"In the Premier's words – 'in Queensland, we are and we will continue to be a State where minerals continue to sustain human existence are dug up from the ground'," Macfarlane said.
"The QRC, our members and the 315 000 Queensland men and women working in the resources sector are committed to delivering the resources – the coal, the metals, the gas – for the everyday needs of people living across the State, across the nation and around the globe.
"The QRC and the resources sector embraces renewable energy, not only as a supplier of electricity for operations, but as a market for the coal and metals we mine. Advanced manufacturing, electric vehicles and battery storage are all markets for our mining companies.
"The future is not a choice between resources or renewables. The future is a commitment to resources and renewables.
"Queensland can be the energy superpower of the future, including a renewables superpower, while at the same time building on our strengths in coal, gas and other minerals.
"Queenslanders don't want to be lectured by visiting activists from interstate and overseas, whether it is Bob Brown or Al Gore. They want their efforts, their hard work, their investment and their futures supported. The Premier has done that today."
Macfarlane said QRC was committed to working with the Premier, her Government and all Members of Parliament to ensure there was stable and predictable policy to allow the resources sector to invest, grow, employ and export more.
Read the article online at: https://www.worldcoal.com/coal/07062019/queensland-premier-commits-to-resources-confirms-renewables-as-a-recipe-for-regional-resilience/
You might also like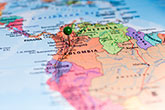 Benjamin Hill has entered into a nonbinding letter of intent with Aion to acquire interest in a Colombia coal project.