---
Carbon Energy Ltd is to help form a globally significant underground coal gasification (UCG) research centre in China in conjunction with one of the world's largest mining universities, the China University of Mining and Technology (CUMT).
Carbon Energy has two representatives on the governing body of the CUMT International Research Centre for Underground Coal Gasification, which has been established to develop the highest standards for China's growing UCG industry and was officially opened on 24 April 2016 in Xuzhou, Jiangsu Province.
The centre will initially be funded by Chinese private industry participants and CUMT, and it is anticipated that additional funds for it will become available from government sources.
The centre has established a technical advisory committee consisting of a panel of international experts renowned for their industry, academic and scientific achievements, and includes the previous Chief Scientist of Australia, Professor Robin Batterham. In his remarks during the opening of the centre, Professor Batterham noted that there are many areas where UCG can be competitive as coal is often available where natural gas is not, particularly in China and where coal seams are too deep and too variable to warrant mining. He also noted that UCG offers the chance to utilise such resources in an effective and responsible manner.
According to Carbon Energy, the establishment of the centre is an important step forward in the advancement of the company's expansion plans in China, where it has a joint venture with Beijing JinHong Investment Co. Ltd to develop a vertically integrated gas business in China.
Morné Engelbrecht, CEO of Carbon Energy, commented: "This is an important development in a market that is highly receptive to UCG technology. The establishment of the centre funded by the university indicated the Country's willingness to establish a world leading UCG industry based on science."
Carbon energy beeleives China's strong demand for lower emission coal technologies, as well as its supportive government policy, makes China a compelling opportunity for Carbon Energy's keyseam technology. The centre has been established to encourage the development of UCG technology by industry and government groups alike, as the environmentally acceptable utilisation method for coal. This is closely aligned to the Chinese government's 13th five year plan, which is a vital macro driver underpinning the expansion of China's UCG industry.
The centre will bring together potential collaborators in the industry to evaluate technologies for specific coal deposits and industry applications and is an important platform for Carbon Energy to showcase its technology to an influential and highly receptive industry audience in China.
The centre will seek to simplify the regulatory process by establishing national and international standards of operation for UCG and formally seek recognition by government. These clear parameters will encourage further investment in the industry in China. The work of the centre is expected to support project developers in obtaining permits and to significantly reduce the time required to commence projects.
Edited from press release by Harleigh Hobbs
Read the article online at: https://www.worldcoal.com/coal/05052016/carbon-energy-helping-establish-chinese-ucg-research-centre-721/
You might also like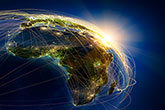 Contango Holdings Plc has advised that the production of washed coking coal has commenced at its flagship Lubu Coking Coal Project in Zimbabwe.