Lighthouse Resources lodges federal lawsuit against Washington administration
Published by Claire Cuddihy, Assistant Editor
World Coal,
---
Lighthouse Resources Inc. has filed a federal lawsuit against Washington state Governor Jay Inslee and members of his administration for blocking coal mined in Wyoming, Montana and other Western sister states from being exported through a terminal in Washington state, in violation of the US Constitution's Commerce Clause and other federal statutes.
The complaint, filed in US District Court in Tacoma, Washington details how State of Washington officials violated the US Constitution and Federal law by unreasonably denying and refusing to process permits to redevelop a brownfield site on the Columbia River where an existing Washington State lease allows coal exports.
Lighthouse Resources is an energy supply chain company whose subsidiaries own and operate coal mines in Montana and Wyoming. Lighthouse Resources is also the corporate parent of Millennium Bulk Terminals-Longview (MBTLongview), which is redeveloping a brownfield site for coal export on the Columbia River. The site currently receives coal for local use and is ready to receive other bulk commodities.
"It's no secret that Washington state officials are philosophically opposed to coal," said President and CEO of Lighthouse Resources, Everett King. "But that does not give them legal authority to discriminate against this project and block foreign trade and interstate commerce."
Legal Overview
Lighthouse's complaint outlines how the defendants violated the dormant foreign commerce clause by unilaterally imposing an embargo on new coal exports and by discriminating against Lighthouse's efforts to transport into Washington coal that is being mined in Montana and Wyoming and other western states.
The complaint also alleges that the State's actions are preempted by both the ICC Termination Act, which gives the federal government jurisdiction over the regulation of railroad operations, as well as the Ports and Waterways Safety Act (PWSA), which allows for the operation of vessels in US harbours.
In its complaint, Lighthouse seeks, among other things, a declaration by the court that the denial by the State is unlawful and an order directing the State to continue processing any and all current and future permit applications.
Background on the Project
Although several Asian countries, including Japan and South Korea, are almost entirely reliant on imported sources of energy, the United States historically has accounted for less than 5% of coal imports into the region. If the permits were to be approved, the new export facility could help boost annual US coal exports by 44 million t and increase the annual value of US exports by more than US$2.5 billion. This, in turn, would significantly reduce the US trade deficit with these nations and provide our allies and trading partners with a reliable, diverse, and secure supply of energy.
Additionally, the expanded port facility will add more than 1300 construction jobs and 135 family-wage jobs in the local community and support thousands of other direct and indirect jobs across the coal supply chain in neighboring states and throughout the country.
Increased US exports of coal also would provide environmental benefits. Japan and South Korea, both of which have signed the Paris Climate Accord, have some of the most advanced coal technology in the world. The environmental qualities of the coal mined in the Powder River Basin in the US, as well as the advanced coal-combustion technologies used in Asia, would lead to a reduction in global carbon emissions.
As stated in the complaint, Washington officials ignored their own Greenhouse Gas Emissions Report that found that sourcing coal from US mines has a net reduction on global greenhouse gas emissions by displacing mining performed in other parts of the world with more environmentally friendly US mining conditions.
"This export facility will create US jobs, shrink the US trade deficit, and reduce carbon emissions," said King. "Unfortunately, these benefits will never be realised if Washington state continues to obstruct and block approval of this energy infrastructure project."
Read the article online at: https://www.worldcoal.com/coal/05012018/lighthouse-resources-lodges-federal-lawsuit-against-washington-administration/
You might also like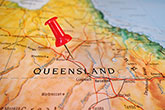 CIMIC Group's minerals processing company, Sedgman, has secured an operations and maintenance contract in the Bowen Basin, Queensland, from Pembroke Resources.