CONSOL Energy finalises spinoff as an independent publicly-traded company
Published by Claire Cuddihy, Assistant Editor
World Coal,
---
US-based CONSOL Energy Inc. (formerly CONSOL Mining Corp.) has announced that it has completed the separation from its former parent company CNX Resources Corp. (formerly CONSOL Energy Inc.), and has begun operating as an independent, publicly-traded company listed on the New York Stock Exchange (NYSE) under the symbol 'CEIX'.
CONSOL is a low-cost producer of high-Btu thermal and crossover metallurgical coals from its Pennsylvania mining complex in the Northern Appalachian Basin, and it also owns and operates a major coal export terminal located in the Port of Baltimore.
"This is a monumental event in the history of a 150-plus year old company. I am very excited about what the future has in store for CONSOL and about being able to lead a team of extremely talented people. The coal assets that are the foundation of our company today are well-capitalised and have a well-documented history of generating strong free cash flow. We look forward to now allocating capital to further develop this globally known platform that stands apart within the industry in terms of safety, margins, and productivity," said Jimmy Brock, CEO of CONSOL Energy Inc.
He added: "We are committed to strong financial discipline and will be rate-of-return-driven as we evaluate future growth and capital return opportunities. I also want to take this opportunity to thank our advisors, banking partners and investors who provided us with the necessary support to make this spin-off possible. We are coming out with a strong balance sheet and liquidity that complements our asset base. Investor expectations are re-emerging and the timing of our spin ties very nicely to prior upcycles that should create value for all of our stakeholders".
Capitalisation
As of 28 November 2017, CONSOL has a total debt of approximately US$918 million after taking into account the various financings entered into as part of the spin-off, unrestricted cash and cash equivalents of approximately US$142 million and total liquidity of approximately US$354 million, after accounting for US$88 million in outstanding letters of credit. We also anticipate entering into an accounts receivables securitisation facility by the end of 2017 that is anticipated to provide us with additional liquidity of approximately US$50 million. Based on the when-issued share price at the close of business on 28 November 2017, and approximately 28 million shares outstanding, the current equity market capitalisation of CEIX is approximately US$600 million. CEIX is expected to be added to the S&P Small Cap 600 GICS Coal & Consumable Fuels Sub-Industry Index.
Completion of the Spin-off
Under the terms of the separation and distribution agreement, on 28 November 2017 the CNX Resources Corp. stockholders received a distribution of one share of common stock of the newly named CONSOL Energy for every 8 shares of the CNX Resources Corp.'s common stock held as of the close of business on the record date of 15 November 2017. No fractional shares of CONSOL Energy were issued, and stockholders will receive cash in lieu of fractional shares.
In connection with the distribution, the former parent changed its name from CONSOL Energy Inc. to CNX Resources Corp. and retained its ticker symbol 'CNX' on the NYSE. At the same time, the newly formed CONSOL Mining Corp. changed its name to CONSOL Energy Inc., and its common stock has begun trading on the NYSE under the ticker symbol 'CEIX'.
In addition, the former parent transferred all of its ownership interest in CNX Coal Resources LP to CONSOL Energy Inc. as part of the separation. As a result, CNX Coal Resources LP changed its name to CONSOL Coal Resources LP and changed its ticker to 'CCR'.
Read the article online at: https://www.worldcoal.com/coal/04122017/consol-energy-finalises-spinoff-as-an-independent-publicly-traded-company/
You might also like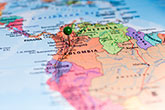 Benjamin Hill has entered into a nonbinding letter of intent with Aion to acquire interest in a Colombia coal project.