---
North American Coal has reported negative results for 3Q15.
The company saw a net income loss of US$5.3 million for 2Q15. This includes charges of US$7.5 million (US$5.8 million after tax of US$1.7 million) to increase the mine reclamation obligation and US$0.5 million (US$0.3 million after tax of US$0.2 million) for severance as a consequence of deciding to cease mining operations at Centennial by the end of 2015.
The company's revenues totalled US$42.7 million, whereas in 3Q14 revenues were US$49.8 million. According to NACoal this decrease is a result of a decline in higher-priced tons sold at the Mississippi Lignite Mining Co. attributable to fewer plant outage days at the customer's plant in 3Q15 compared to 3Q14.The reduction in tons sold at Centennial was primarily due to operations cut backs.
NACoal's operating results for 3Q15 saw a significant reduction compared to 3Q14. The company encountered a operating loss of US$4 million from US$4.4 million in 2014. This was reported to be largely due to Centennial operating results.
Gross profit at Centennial was a loss of US$15.3 million in 3Q15. These negative results were partially offset by improvements at Mississippi Lignite Mining Co. as a result of more tons sold than in the third quarter of 2014 and an increase in royalty and other income.
Outlook on operating results for 4Q15
NACoal has projected to see overall improvements in operating performance at its coal mining operations in 4Q15 compared with the 4Q14.Excluding the 2014 asset impairment charge of $105.1 million, or $66.4 million after tax of $38.7 million and the 2014 gains on the sale of assets, North American Coal expects income before income taxes in the fourth quarter of 2015 to increase substantially over the fourth quarter of 2014.
Centennial is expected to encounter a loss from operations in the 4Q15 as a result of reducing mining operations while fulfilling commitments under existing sales contracts. The fourth quarter loss is expected to be less than the loss incurred in 3Q15 (excluding mine reclamation and severance charges).At the Mississippi Lignite Mining Co., tons sold and results from operations are anticipated to total higher results in 4Q15 compared with 4Q14 when a significant planned outage took place at the customer's power plant.
NACoal has further indicated that at the unconsolidated mining operations, operating results are likely to decline moderately in 4Q15 compared with 4Q14. However, this decrease will be partially offset by additional income from a full quarter of production at Caddo Creek Resources Co., and from Camino Real Fuels
Outlook for 2016
NACCO expects an increase in income before taxes in 2016 compared with 2015. The company expects to see positive results in 2016 following ceasing mining operations at Centennial, which is currently exposing the company to coal market price volatility, as well as higher income from the unconsolidated mining operations.
In 2016, Centennial expects to incur a moderate loss, excluding the effect of any potential future asset sales, as it manages mine reclamation obligations and disposes of certain assets.
Mississippi Lignite Mining Co. results are likely to decline in 2016 compared with 2015, according to the NACoal's report.
Royalty and other income is expected to decrease in 2016 compared with 2015.
Income from the unconsolidated mining operations is predicted to improve in 2016 as production levels increase at Camino Real and Coyote Creek mining operations commence delivering coal to its customer.
Focusing on a long term outlook, North American Coal continues to aim to increase earnings of its unconsolidated mines by approximately 50% by 2017 from the 2012 level of US$45.2 million through the development and maturation of its newer mines and normal escalation of contractual compensation at its existing mines. The company has also indicated it will carry on its efforts to develop new mining projects and is actively pursuing opportunities for new or expanded coal mining projects.
Edited from press release by Harleigh Hobbs
Read the article online at: https://www.worldcoal.com/coal/04112015/north-american-coal-3q15-results-3110/
You might also like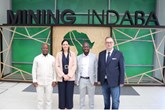 Continuing a spate of new global enrolments, the World Coal Association (WCA) has welcomed South African mining investor, Menar, to its roster of progressive coal members.