---
EESTech has developed innovative and proprietary reclamation and remediation waste management solutions that deliver zero-waste outcomes for the world's mining and resource processing industries.
The first of these unique waste management solutions is EESTech's waste resource agglomeration modules (WRAM).
A single line WRAM facility can process up to 100 tph of discard dumps and saturated waste fines to recover materials of value and agglomerate them into WRAM ROX, an upgraded product with enhanced performance, transforming what was once hazardous waste liabilities into a valuable resource.
Waste coal fines are processed to produce WRAM ROX of export quality coal. WRAM ROX has met all requirements for application in a Fischer-Tropsch indirect coal liquefaction process used in the production of petroleum based products.
WRAM readily enables the blending of various minerals such as iron ore and coking coal to enhance smelting efficiencies and reduce energy consumption. The porosity of the WRAM ROX can be regulated to facilitate improved aeration and reduction efficiencies thereby increasing production and significantly reducing industries carbon footprint.
An independent and comprehensive test review by one of the world's largest steel producers concluded that WRAM ROX has the necessary integrity to be used as feedstock for iron making units in blast furnaces. WRAM ROX will increase the efficiency of blast furnace operation and reduce energy demand.
Read the article online at: https://www.worldcoal.com/coal/04102018/eestechs-wram-achieves-success-in-independent-trials/
You might also like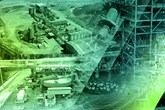 DRA Global has secured the contract for a major design package for Whitehaven Coal's Vickery Extension Project located in New South Wales, Australia.