New lab opened by Novoshakhtinskoye Mine Administration of Primorskugol for determining germanium content in coal
Published by Stephanie Roker, Editor
World Coal,
---
The new division has been created from collaboration between science and manufacturing, and allows the evaluation of raw materials extracted at the Pavlovsky brown coal deposit in the context of commercial mining of germanium, a strategic element used in radio electronics, including in the space industry.
"This lab is unique. For the first time in Russia, a mining company has established a production structure for studying the microelement composition of coal with maximum precision," Sergey Silyutin, Head of Coal Quality and Processing Department at SUEK, emphasised.
In fact, coal contains dozens of elements with commercial value; the volume of which is equal to or even exceeds their content in other extracted minerals.
Previously, the composition was assessed in specialised research institutes or directly during geological exploration.
The determination of germanium content was a technologically complex, time-consuming and rather hazardous process, as it used techniques involving highly concentrated mineral acids requiring increased safety measures for personnel and the disposal of toxic waste.
The new laboratory is designed to meet the challenges of determining germanium content in coal, ensuring independence from research institutes, high data efficiency, work productivity and safety of people and the environment.
In order to develop the necessary methodological framework, SUEK contacted the Laboratory for Physiochemistry of Coals, the National University of Science and Technology (MISiS). Its head, Doctor of Technical Sciences, Professor Svetlana Epshtein, considers the opening of the laboratory by Novoshakhtinskoye MA "a transition to a different level and quality of work of the company's and laboratory employees."
"The laboratory has the most advanced equipment, which assumes that the people who will work there will not be of a lower calibre when compared to employees of scientific research institutes. They will be able to solve problems that are much broader than in conventional coal chemistry laboratories," she said.
The new methodology became the basis for developing approved state standard samples, i.e. standards of germanium content in coal, which have been registered and submitted to the Federal Information Fund for Ensuring the Uniformity of Measurements. This is very important for the quality and reliability of germanium determination in coal and the blending and proper preparation of product quality certificates.
The developed methodology will form the basis of the new standard for everyone. It fully provides for metrological instruments with accuracy control. Experts from the Ural Scientific Research Institute for Metrology also took an active part in its development; with their methodological support, unique standard samples were created.
"The opening of such a laboratory is the first step towards the development of our company in line with the long-term strategy," Andrey Dyakonov, Director of Novoshakhtinskoye Mine Administration, Primorskugol LLC, said. "Undoubtedly, this laboratory opens up new perspectives for the unit, allowing for the start of research into the rare earth metals contained in rocks and coal. This ambitious work will be done with extensive scientific support."
Germanium is included in the balance of commercial reserves when its content in rocks is at least 50 g/t. At the Pavlovsky coal deposit, developed by Novoshakhtinskoye MA, the average germanium content is about 400 - 450 g/t, and it is even 2 kg in some sections.
Read the article online at: https://www.worldcoal.com/coal/04042019/new-lab-opened-by-novoshakhtinskoye-mine-administration-of-primorskugol-for-determining-germanium-content-in-coal/
You might also like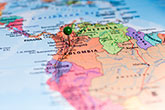 Benjamin Hill has entered into a nonbinding letter of intent with Aion to acquire interest in a Colombia coal project.