---
The Colorado Mining Association has issued a statement on the idling of the Bowie Mine No. 2 in Delta County.
Stuart Sanderson, CMA President, stated: "once again, the heavy hand of government has caused 68 hardworking employees to lose their jobs; as we said in connection with a previous decision by management to reduce the work force at the mine, both federal and state governments are to blame for policies discouraging the use of coal, our most affordable and abundant fuel for electricity generation."
CMA referred to a news release that it published on 31 October 31 2014, which cited settlements reached as a result of negotiations behind closed doors between the government and anti-coal special interests that resulted in the closure of Tennessee Valley Authority power plants that once burned coal.
"Government has played the primary role in cutting off access to export markets for Colorado coal like the TVA – once one of our largest customers. And with the passage of legislation mandating the premature retirement of coal plants in Colorado or their conversion to higher cost energy sources, mines like Bowie have virtually no markets in state," Sanderson added.
Sanderson cited the Environmental Protection Agency's Clean Power Plan, the order by the Interior Secretary to impose a moratorium on new federal coal leasing, and state laws mandating the use of higher cost energy as primarily to blame for the decline in coal markets.
"What is particularly distressing about the current situation is that most of the miners are young and have families, which is so important for rural economies to grow. There is something very wrong with state and national environmental laws when they create unemployment while simultaneously creating energy poverty through higher electric rates," Sanderson concluded.
Edited from press release by Harleigh Hobbs
Read the article online at: https://www.worldcoal.com/coal/04032016/government-to-blame-for-job-losses-at-bowie-mine-no2-336/
You might also like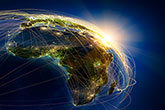 Contango Holdings Plc has advised that the production of washed coking coal has commenced at its flagship Lubu Coking Coal Project in Zimbabwe.