---
Cluff Natural Resources Plc has announced that the Coal Authority has awarded the company a further Deep Underground Coal Gasification Licence, in the Firth of Forth, near East Wemyss, Scotland. The award enhances the company's portfolio of UCG licences in the Firth of Forth area in Scotland as it continues towards the commercialisation of its first deep UCG licence at its near-by Kincardine Licence where the company has recently announced plans to develop a production test project.
The Coal Authority has also granted CLNR an extension to its two UCG licences in Cumbria, England, to include conventional mining rights, which will allow the potential for these licences to be considered from a conventional coking coal mining perspective, in addition to UCG.
Algy Cluff, Chairman and Chief Executive of Cluff Natural Resources, commented: "We believe that UCG will help provide a cleaner energy, diversity of supply and energy security for the UK. The award of this additional UCG licence in the Firth of Forth, Scotland considerably bolsters our position in the region and clearly demonstrates our commitment to becoming a long-term supplier of syngas to industry at Grangemouth and the surrounding energy intensive industries including power generation.
"In addition, we are delighted to announce the extension to our UCG licences in Cumbria for conventional coking coal mining. We recently announced a large coal exploration target with suitability for conventional coal mining as well as UCG, which adds an exciting new dimension and optionality to this licence area. With a large portfolio of UK energy assets now including nine UCG licences totalling 690km2 and five promote licences for conventional gas exploration in the Southern North Sea, all of which are 100% owned, we look forward to updating the market on our developments across our portfolio of gas assets in due course."
Adapted from press release by Joseph Green
Read the article online at: https://www.worldcoal.com/coal/02042015/impact-cradles-control-spillage-belt-2141/
You might also like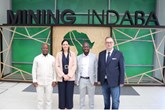 Continuing a spate of new global enrolments, the World Coal Association (WCA) has welcomed South African mining investor, Menar, to its roster of progressive coal members.