Rallies held against Kellingley closure
---
Miners at a North Yorkshire coal mine set to close this year have staged a rally to call on the government to provide funds to keep it open.
Kellingley Colliery is set to close in 2015 with the loss of about 700 jobs.
Workers, MPs, activists and union leaders marched through Knottingley and held a rally at Kellingley Social Club.
Among those attending the rally was Actor George McKay, who starred in the critically-acclaimed movie 'Pride', which depicts the true story of a lesbian and gay activist group (LGSM) who helped raise money for families affected by the British Miner's strike of 1984.
Dai Donovan, an ex miner turned trade unionist who played a key role in working with LGSM during the Miner's Strike, came to the Kellingley rally to represent Welsh miners and the team from LGSM. He said it was vital that politicians gave miners a fair chance with investment to keep the pits going.
Politician Sian James – Labour MP for Swansea East – also spoke passionately at the rally about the importance of securing a future for coal, especially with clean coal technology coming online and gradually becoming commercialised.
The Kellingley mine is under threat of closure after UK Coal suffered a catastrophic fire at the Daw Mill coal mine two years ago. A deal was done late last year to keep it open until the end of 2015 and plans have now been submitted for Government support that would see that extended to 2018. But the Government has been dragging its feet and refusing to look at ways to keep the pit open.
Labour MP, Yvette Cooper, also attending the rally, said: "It's 30 years this year since the end of the Strike, but round here people haven't forgotten the fight to keep our pits open. Well now our last mine is threatened, and if the Government doesn't act fast it will be too late. The cost of keeping Kellingley open is going up week after week yet the Government is just dragging its feet trying to kill off the pit by stealth. If they'd done a proper deal for Kellingley when we first called for action, the investment need would be a fraction of what is needed now to close the face-gap."
"That's why we need urgent action now before it is too late, and before the major redundancies in April. The Government should be working with UK Coal, private investors, the power companies and Europe to get a package in place including state aid to keep the pit open," Cooper said.
"We've always stood together in the past when times have been tough and I know we'll do the same now to show our support to our miners and their families," Cooper added.
Chris Kitchen, General Secretary of the National Union of Mineworkers (NUM), said: "We have been fighting for the survival of the British Deep Mined Coal Industry for the last 30 years, we will continue to fight to the last. The UK gets over 30% of its electricity from coal and we must make sure that it is British Deep Mined Coal keeping British Miners in work rather than importing all our coal".
In August, UK Business Secretary, Vince Cable, said giving government funds to keep the mine open "wouldn't be good value for money".
Kellingley is one of the last three remaining underground coal mines in the UK – the others being Hatfield in South Yorkshire and Thoresby in Nottinghamshire. 
Edited from various sources by Sam Dodson
Read the article online at: https://www.worldcoal.com/coal/02022015/rallies-held-against-kellingley-closure-1833/
You might also like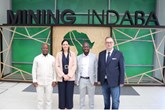 Continuing a spate of new global enrolments, the World Coal Association (WCA) has welcomed South African mining investor, Menar, to its roster of progressive coal members.