---
American Resources Corporation announced CEO Mark Jensen's interview on Uptick Newswire's 'Stock Day' Podcast.
Stock Day podcast host, Everett Jolly, recently invited American Resources to the show for the first time for an interview. Jolly first learned about this company around three months ago and has been tracking the company's progress. In 2016, the company reported US$7.6 million in revenue, in 2017, revenues jumped to about US$20 million, and in the first quarter of 2018, American Resources has already generated US$7.3 million in revenue.
"With us today is the CEO, Mark Jensen. Mark, welcome to the show! Give my listeners a statement about who you are and how you make your money."
Jensen said that American Resources Corporation has a goal of being one of the fastest growing producers of coal in the US, with a focus on metallurgical and premium thermal coals.
"What makes your company so different from all the other mineral and coal producers?"
Jensen responded that they are one of the few companies in their sector who are focusing on not only organic growth, but also growing through consolidating a fragmented market. They've closed on over six acquisitions since starting the business in 2015, including two acquisitions in the past six months. He believes another huge difference is that they're able to acquire, integrate and turn around less efficient coal mining operations in an expeditious fashion to fit their low cost, effective operating model. The management team has a background in turn-around consulting and restructuring businesses. He said there are really very few mining companies in their sector who are currently focusing on growth.
Jolly commented that American Resources Corporation issued a press release in late May of 2018 concerning a reduction of US$18.1 million in liabilities and wanted his guest to expand on that.
Jensen said a large portion of the US$18.1 million was owed to management of the company from costs associated with acquiring and developing the assets. Management is the majority owner of the public company, and they made the decision to forgive the liability, given their desire to improve the balance sheet, focus on the equity value and align themselves fully with investors.
It looks like the company is ramping, so Jolly wanted to know where the growth was coming from.
Jensen indicated that a lot of their growth has been organic. Last year at this time, the company operated on two out of their 39 permits. Today, they are operating on six of their mining permits. So, organically, they can grow the business substantially. He continued to explain that they're always looking for additional acquisition opportunities, as well as creative ways to grow the business.
Jolly inquired whether there was an uptick (pun intended) in coal prices and Jensen said "absolutely!"
Over the last 18 months, the company has seen a 60% increase in metallurgical coal prices and over a 45% increase in thermal coal prices. He explained: "Any incremental increase in demand increases your margins exponentially."
In closing, Jensen said he's thankful for the opportunity to provide some information to the public about American Resources Corporation.
For more information about the company's financial details, listen to the full interview
here.
Read the article online at: https://www.worldcoal.com/coal/01082018/american-resources-corporation-provides-company-update-via-podcast/
You might also like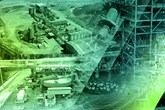 DRA Global has secured the contract for a major design package for Whitehaven Coal's Vickery Extension Project located in New South Wales, Australia.