---
Glencore's coal production was 3% down compared with 2016, totalling 121 million t for the year end 31 December 2017. The global miner reported that these reductions were closely linked with industrial action and adverse weather events, which were mostly offset by productivity improvements and Glencore's higher equity share in certain mines.
Glencore's Australian metallurgical coal production finished at 6.1 million t for the year – 0.8 million t (15%) higher than in 2016, which, Glencore attributed to mainly the restart of the Integra mine in New South Wales.
However, Australian thermal and semi-soft coal production declined by 3% compared to 2016, coming in at 1.7 million t. This was reportedly due to higher equity ownership of the Newlands and Collinsville mines, expected ramp-ups (notably Rolleston) and production efficiencies across the board were offset by planned mine closures and the impact of industrial action.
At Glencore's South African thermal coal operations, production for the year stood at 28.7 million t, which was in line with production in 2016, as improved operating performances at the main mine complexes were offset by planned closures of smaller mines.
At the Prodeco mine in Columbia, production for the year stood at 14.6 million t, 2.7 million t (16%) lower than in 2016. According to Glencore, this was initially due to the impact of severe wet weather and later, as a result of a geotechnical event, which had adverse effects on productivity.
At Cerrejo´n mine in Columbia, Glencore's share of production stood at 10.6 million t. This was in line with 2016, as the easement of some restrictions related to dust emissions was offset by the disruption caused by unusually heavy rainfall.
Read the article online at: https://www.worldcoal.com/coal/01022018/glencore-australian-met-coal-up-thermal-coal-down/
You might also like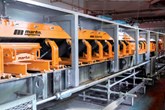 A global leader in bulk handling accessories and safety, Martin Engineering, is expanding its presence in the Asian Pacific market by opening a business unit in Malaysia.