---
Flender on the operational capability of gear units: Using the temperature requirement as the decisive factor, we determine the thermal capacity, which important for the operational capability of a gear unit, and an important criterion when selecting the right provider because it determines how a gear unit will be configured.
In some cases it may lead to the selection of a smaller size because the level of heat dissipation determines the housing surface. For our customers that means by implication considerable cost-saving potential, because Flender gear units' thermal capacity saves having to move up to the next-largest gear unit.
The reliability of a drive is affected by many factors. The major deciding factors are the quality of the drive assemblies, the coordination of the system as a whole and the temperature characteristics of the gear unit in continuous operation. This last factor is determined by two main parameters: the natural environmental conditions and the intrinsic temperature development, which is in turn an expression of quality and level of development.
Because in gear-unit construction the best engineering performance always results in an extreme power density that is in any case not to be achieved without the latest production methods and highest precision in production. Too high an operating temperature over time leads to impairment of the lubricating capacity of the oil, damage to the seals and so to increased wear. An optimised gear-unit temperature thus increases the service live of the system, reduces life- cycle costs and maximises the life of the drive unit.

Drive train on a swing base with coupling and gear unit from the standard range.
For many system operators cooling systems represent additional risk potential. Often there is no water supply. Up to a certain size an optimised housing surface enables the gear unit to be cooled with ambient air.
However, an enlarged housing surface on its own is only part of the solution. What is decisive is that the ambient air can be guided to the gear-unit housing direct and over as much of the surface as possible. To guarantee permanent dissipation of the boundary air-layer, Flender uses highly efficient fans. They guide the air over the housing and ensure that the heat is con- ducted away from it. Flender has invested a particularly great deal of engineering effort in the air-flow mechanics bound up with this. Specially designed air-guide hoods ensure that the air flows evenly over the entire surface. This effective, fully developed air-guidance system is not used in drive technology anywhere else in the world.
To learn more, download Flender's white paper for free!
Read the article online at: https://www.worldcoal.com/cbm/07082019/flender-24-hours-a-day-365-days-a-year/
You might also like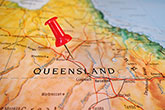 CIMIC Group's minerals processing company, Sedgman, has secured an operations and maintenance contract in the Bowen Basin, Queensland, from Pembroke Resources.