---
Tlou Energy Ltd, a company fcused of on delivering power in Botswana and Southern Africa through the development of coal bed methane (CBM),has signed a binding Heads of Agreement with Independent Power Corp. Plc (IPC) to jointly develop Tlou's proposed (up to) 100 MW CBM to power project (IPP project).
As previously announced, Tlou has received a request for proposal (RFP Tender) to tender for and develop a CBM power plant of up to 100 MW at the Lesedi CBM project. The application process involved approval by Botswana's government Cabinet, following which it was reviewed by the Public Procurement and Asset Disposal Board and then the receipt of the request for proposal from the Ministry of Mineral Resources, Green Technology and Energy Security (MMRGTES).
Under the agreement with IPC, Tlou and IPC will jointly finalise work on a detailed proposal for submission to MMRGTES for the supply of CBM power in modular stages, including negotiations with various third parties on the terms of an off-take agreement, network access and project funding. The IPP Project will be supplied with gas from Tlou's Lesedi CBM project in Botswana.
Tlou Managing Director Tony Gilby said: "Tlou is strengthening its position as the leading gas to power company in Botswana with the announcement of IPC as our preferred development partner. IPC brings power generation experience and funding partners to the project that significantly enhances its viability. With an expanding gas reserves base, environmental approval for the upstream component of the proposed development and now a power development partner, we are in a very strong position."
Tlou and IPC's strategy with respect to the RFP Tender comprises:
An initial pilot power project of up to 10 MW of generation capacity (using modular reciprocating engines).
Grid connection of the initial project.
Expansion up to 100 MW of generation capacity and associated infrastructure (using gas turbine units that can be installed in a combination of open and combined cycle configuration, many of which are currently operating successfully throughout Africa).
Under the agreement, IPC is to arrange funding on behalf of the IPC and Tlou sufficient to support the RFP Tender. IPC and Tlou will also bear its own costs in fulfilling its obligations under the agreement, as well as commit to fund half of external costs incurred to prepare the RFP Tender, up to US$200 000.
Read the article online at: https://www.worldcoal.com/cbm/02032017/tlou-announces-development-partner-for-cbm-to-power-project/
You might also like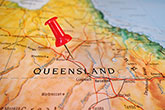 CIMIC Group's minerals processing company, Sedgman, has secured an operations and maintenance contract in the Bowen Basin, Queensland, from Pembroke Resources.