---
Terex Port Solutions (TPS) has obtained design approval for Terex® Gottwald Model 8 floating cranes in the G HPK 8200 B four-rope grab variant operated on the open sea.
This was necessary because the Lloyd's Register Code for Lifting Appliances in a Marine Environment has changed since the initial approval of the machines in 2007. The design of the crane, which offers an outreach of maximum 50 m, a 63 t grab curve and lifting speeds of up to 140 m/min., has also been completely reworked in the meantime and adapted to the current Model 8 series standard.
According to Lloyd's Register, the G HPK 8200 B cranes can be used at wave heights of up to 2.5 m and wind speeds of up to 20 m/sec. Lloyd's Register has also granted approval for a 100 t heavy load curve for crane use in protected waters so that the operating company can handle project cargo with this floating crane variant when needed. Thanks to this enhancement, this crane is even more versatile than ever especially compared to conventional bulk transhipment cranes, which generally have lower lifting capacities.
To obtain the design approval, the G HPK 8200 B had to undergo the complete approval procedure once more. Dr Dirk Rother, Senior Manager Applications Engineering, TPS, said: "During the procedure, the design of the steel structure, safety-relevant mechanical components, hydraulics and electrical equipment and control systems were checked by Lloyd's Register. On the basis of this very detailed review of our complete design, it was possible to obtain the design approval for the G HPK 8200 B crane once again, so that we can continue to offer our customers this crane variant for use with a Marine Classification from Lloyd's Register."
TPS mobile harbour crane technology has been used on water in the form of floating cranes since 2004. Initially there was a very strong demand for the cargo handling cranes, particularly from terminal operators on the Mississippi, where to this day they are still used primarily for cargo handling in transhipment.
Floating cranes from TPS have also been working on the open sea since 2007. At that time, the first G HPK 8200 B crane developed specifically for use at sea started work off the coast of Indonesia. It was followed by seven more in the coastal regions of Southeast Asia and Africa. All the cranes work in professional and hence high-performance handling of bulk material (mainly coal and bauxite) from barges to ocean-going vessels.
Edited from press release by Harleigh Hobbs
Read the article online at: https://www.worldcoal.com/product-news/20092016/tps-gains-design-approval-with-lloyd%E2%80%99s-register-for-floating-cranes-2445/
You might also like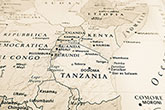 Edenville Energy Plc has provided an update on its Rukwa Coal Project in Tanzania.