Power - 18 April 2017
Under the inaugural NERA Innovation Voucher programme, 10 Australian businesses have each been awarded a AUS$20 000 grant.
BHEL has successfully commissioned two units of 270 MW at RattanIndia Nasik Power Ltd's 5 x 270 MW thermal power project, located in Nashik District of Maharashtra, India.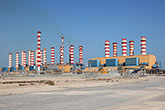 According to a report from the EIA, most coal plants in the US have an average operating age of 39 years.