Mining - 05 October 2017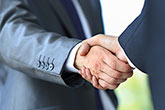 Australian Pacific Coal has completed divestment of Cooroorah and Mt Hillalong tenements.
Vulcan is to pay Morien Resources each quarter until sales commence at the Black Point aggregate project.
The company will apply the net proceeds of the subscription to the completion of construction work at the Rukwa Coal project.