Coal - 13 June 2019
Adani Mining's Groundwater Dependent Ecosystems Management Plan has been finalised and approved by the Queensland Government.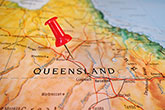 Queensland's thermal coal exports could be set to grow stronger than forecast, says Wood Mackenzie.
According to the new BP Statistical Review of World Energy 2019, both global coal consumption and production rose in 2018.