Coal - 04 November 2020
NTPC Ltd, has started collaborating with cement manufacturers around the country to supply fly ash.
Coal India Ltd, for the purchase of 96 dumpers of 240 t capacity, has issued a letter of award of Rs. 2900 crores to Belaz, a Belarus based mining equipment manufacturer.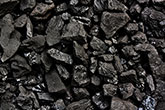 In May 2020, AUMUND Hong Kong won an order from PT Asahimas Chemical, Java, Indonesia, for the new generation of STORMAJOR.