Coal - 02 April 2019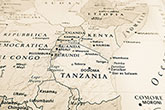 Edenville Energy has provided an update on the developments and operations at its Rukwa coal project in Tanzania.
CD Cargo has begun supplying coal to the Werndorf power plant via its train wagons.
Port Waratah Coal Services' latest report details how it introduced new mobile technology to strengthen the safety of its employees, and delivered several significant environmental infrastructure projects while achieving various shiploading records.