Coal - 01 November 2017
The World Coal Association and Bettercoal have signed a Memorandum of Understanding to consolidate their partnership.
CONSOL Energy's board approves the company's previously announced separation into two publicly-traded companies – a coal company and a natural gas exploration and production (E&P) company.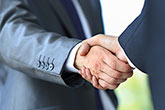 Canyon Consolidated Resources agrees to purchase Bowie Resource Partners, effectively buying out Galena Private Equity Resource Fund's equity stake in the subject assets.